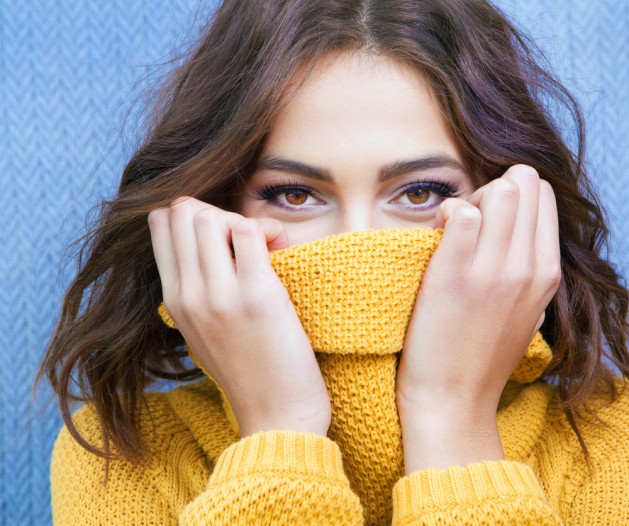 With the cheerfulness of the winter holidays also comes a threat to overall health. Throughout the winter, it becomes increasingly difficult to keep our bodies functioning in top form, whether it's from the cold and dry air, shorter days, or junk food temptations. Or a combination of all three!
Through dedication to wellness, it's possible to beat the unhealthy cycle this winter. You can overcome the dry skin, unruly hair, and fluctuating weight by keeping your beauty and winter health routine consistent from December to February. It's not hard: check out these winter health tips!
Winter Health for Hair
While most people enjoy showing up for work with a freshly shampooed do, the process is actually quite tough on hair. Shampoo strips hair of it's naturally-occurring oils, which in turn produces dry, dull strands. And in winter, the combination of cold air and blaring indoor heaters means your hair will already by gasping for moisture. Do your mane a favor this winter by shampooing every other day instead—or even every few days. To rescue already damaged hair, try a deeply moisturizing hair mask. Go the natural route, by applying coconut oil to hair, wrapping it in a small towel, and leaving it to set all night. Another option is to buy a reputable product, such as the Living Proof Restore Mask Treatment or Macadamia Natural Oil Deep Repair Masque.
Winter Health for Skin
Every woman knows that winter means dry, flaky skin. But that doesn't have to be the case! From home remedies to over-the-counter lotions to high-end products, there are plenty of ways to keep your skin moisturized in the cool air.
Home Remedies
Coconut oil is the wonder product for home remedy connoisseurs. This richly moisturizing oil is easy to apply, has antibacterial, antiviral, and anti-fungal properties, and can be used on any part of the body safely. To use, simply melt a teaspoon (or more if you need it!) of oil in a microwave-safe bowl. Apply with hands to elbows, knees, feet, or anywhere you might need it.
Over-the-Counter
There are dozens of lotion choices at any given drugstore, so do your best this winter to find your favorite and use it religiously. Brands like Aveeno, Nivea, Gold Bond, and Cetaphil all have wonderful formulas for intense healing. Another great product for spot-treatment of particularly stubborn dry spots? Eucerin's Original Healing Soothing Repair Creme. You won't believe how thick and creamy the formula is!
High-End
Let's face it: sometimes you need to splurge on luxury products when times get tough. Night creams and oils are a particularly popular item to spend extra dollars on, considering how important complexion is. Beauty gurus all around agree that the Kiehl's Midnight Recovery Oil is a beauty must. A few other highly rated products are Shiseido PURENESS Moisturizing Gel-Cream, Origins High-Potency Night-A-Mins, and Clinique Moisture Surge™ Extended Thirst Relief.
Winter Health for Body
Since there's no one true secret to keeping your body in check during the sweet temptations of the holidays, do your best during the week to food-prep nutritious, whole-food meals ahead of time. Start by scouring the internet for unique and healthy recipes, creating your ingredient list, and hitting the grocery store. Prepping your meals ahead of time prevents wasted food (and money!) and beats ordering takeout after a long day at work.
Another routine to start before the holidays begin? A workout regimen! Start mornings off with a run, walk, or floor exercise. Sign up for classes with your girlfriends. Do outdoor activities like snowshoeing, skiing, or snowboarding if your location allows it. Whatever you do—don't stop moving! That way you'll stay happy and healthy, even if you indulge in a slice of pie… or two!