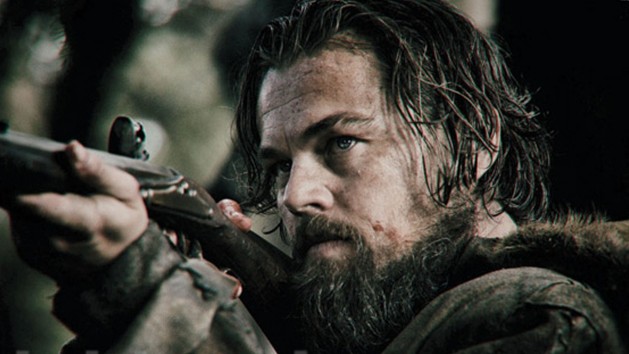 Your Must-See December Movie Guide
December is one giant stocking stuffer for cineastes. The "effects driven event films" of the warmer months have long faded from the multiplexes, replaced by stories jockeying for the kind of gold that comes in statuette form. While some critics are calling this December the weakest in years, there are still plenty of reasons to make the local movie theater your favorite escape from the cold and that one uncle who decided after Thanksgiving he would just stay through Christmas. The next 30 days will see new projects from frequent Oscar contenders Ron Howard, David O. Russell, Quentin Tarantino and Alejandro González Iñárritu, as well as the release of a small independent film set in a galaxy far, far, away. Here's your guide to what to see during eggnog season.
DECEMBER 04
KRAMPUS

From director Michael Dougherty, comes a film in the increasingly popular Christmas counter-programming genre. Krampus tells the story of "A boy who has a bad Christmas and ends up accidentally summoning a demon to his family home." Doubtful that this one will contend for any hardware, but it could make for an enjoyable evening out for anyone who starts to feel their sanity slipping when Mom puts Josh Groban's Noel album on repeat. We'll see if it can scale the heights of 2010's deliciously nasty "Santa as a demon" film, Rare Exports. If so, Scrooges could be in for a real treat.
MACBETH

Debuting to considerable acclaim at May's Cannes film festival, December finally sees the wide release of Justin Kurzel's adaptation of the bard's famed tragedy. Michael Fassbender takes on the titular role of the ambitious courtier who violently deposes the King at the urging of his maniacal wife, Lady Macbeth (Marion Cotilliard). Aside from the perfect casting of the leads, this one merits attention for director Kurzel's valiant attempt to broaden the stage world Shakespeare created in order to take full advantage of the cinematic medium. If it is as good as promised, Macbeth will likely join the upper echelon of Bard adaptations.
DECEMBER 11th
IN THE HEART OF THE SEA

Ron Howard's take on the legend that inspired Moby Dick stars Chris Hemsworth as the captain of an "1820 whaling ship preyed upon by a sperm whale, stranding its crew at sea for 90 days, thousands of miles from home." Howard's film was originally slotted for a March 2015 release, but was pushed back by Warner Bros. to the holiday season. Optimists speculate that the film's quality merited an Oscar season release while doubters wonder if the film was such a mess that it needed another nine months of editing. Howard and Hemsworth's previous collaboration, 2013's Rush, was the director's best reviewed film in over a decade, so there's reason to hope that the film will be a taut man vs. nature thriller. At any rate, In the Heart of the Sea will be preferable to actually reading Moby Dick.
THE BIG SHORT

Based on Michael Lewis' (Moneyball, The Blind Side) bestselling 2011 book detailing the 2008 financial crisis, Adam McKay's The Big Short is probably the surest bet of the December releases to lock up a best picture nomination. Early reviews for the film have been extremely strong, and the two previous films based on Lewis books earned nods for Best Picture—as well as acting nominations for their stars. Speaking of stars, McKay's cast is the most loaded of any December release; featuring turns from Oscar nominees Steve Carell, Christian Bale, Brad Pitt, and Ryan Gosling. In a relatively weak acting field, one can bet that some (or all) of the men add to their previous nominations. Expect to hear The Big Short called frequently when Oscar nominations are announced January 14th.
LEGEND

Tom Hardy, who has been everywhere in 2015, stars as the Kray Twins; a pair of ruthless gangsters who ruled mod London. The film has already debuted to solid reviews in England, with Hardy receiving commendation for his calculatingly unhinged performance. Crime dramas have been fairly thin on the ground in 2015, so for those who like their heroes on the wrong side of the law, Legend should prove a particularly appetizing holiday treat.
DECEMBER 18th
SISTERS

SNL dream team, Tina Fey and Amy Poehler, team up for this story of two thirty-something sisters who decide to throw one last house party before their parents sell their childhood home. Fey and Poehler's outing, directed by Pitch Perfect's Jason Moore, should be good for laughs solely based on the pair's remarkable charisma. Female buddy flicks are slowly replacing their male counterparts—which were so prevalent in the 70's and 80's—and few are more appealing than Fey and Poehler. At the very least, Sisters should offer a nice option for those who find the thought of a night spent with grown men dressed as Han Solo about as appealing as being held as Jabba's slave.
STAR WARS: THE FORCE AWAKENS

Ever since Disney's 2013 purchase of Lucasfilm and subsequent announcement of a new trilogy, this date has been circled on filmgoers calendars. Despite the massive success of Jurassic World, the plethora of quality television and streaming options have severely limited the amount of event films where attendance is a cultural mandate. Make no mistake, with the film already scooping up over 50 million in advance ticket sales, Star Wars is a must-see for a large portion of the public. Disney's massive plans for the franchise—multiple spin offs, a new trilogy, a television show—may eventually suck some of the magic out of the franchise, but right now the idea of seeing "in a galaxy far, far, away" on the biggest screen possible is the best Christmas present a young (or not so young) jedi could ask for.
DECEMBER 25th
THE HATEFUL EIGHT

Quentin Tarantino, the blood-spattered genius behind such genre-busting classics as Pulp Fiction, Inglorious Basterds, and Reservoir Dogs, returns with his second consecutive western. Shot in 70 mm Panavision, The Hateful Eight is a locked-room murdery mystery set in post-Civil War Wyoming, as six bounty hunters are trapped in a cabin during a snowstorm with a particularly expensive bounty. A first draft of the film leaked in 2012. However, Tarantino has since completely revised the ending so we can expect the unexpected. One thing we know for sure, there will be blood. Gallons of it most likely.
JOY

The latest collaboration between the Academy beloved triumvirate of director David O. Russell and stars Bradley Cooper and Jennifer Lawrence, after Silver Linings Playbook and American Hustle, is a multi-generational epic about Joy Mangano, Miracle Mop founder. A late night TV infomercial staple may seem like curious subject matter for Oscar bait, but O. Russell has a knack for finding the warm core of humanity in any number of delightful eccentrics. Nobody has seen the film yet, but expect this one to be a serious contender for the big prizes come February.
ALVIN AND THE CHIPMUNKS: THE ROAD CHIP

The latest adventures of everyone's favorite singing rodents finds the trio rushing to Miami to prevent their human, Dave, ditching them for a fiancée. Alvin should find plenty of family viewers as increasingly frazzled parents look for ways to entertain children on lengthy Christmas vacations. We can all look forward to Chipmunkized versions of current pop songs in the coming months. Oh joy…
CONCUSSION

Will Smith's latest bid for Oscar glory depicts the true life story of Pittsburgh pathologist Dr. Bennet Omalu, who uncovered the brain damage in football players caused by repeated head-on collisions. At first glance, Concussion looks like prime Oscar bait: a marketable star, ripped from the headlines issue, and Christmas release date, but advance word cautions those looking for a Michael Claytonesque fight-the-system story to search elsewhere. Concussion has, so far, been deemed wildly uneven. Instead, check out Alan Schwarz's Pulitzer nominated coverage of concussions in football players for the New York Times.
THE REVENANT

Every year Leonardo DiCaprio enters February as one of the presumptive Oscar frontrunners, only to see his lead evaporate as some latecomer, *cough*Matthew McConaughey*cough*, elbows his way to the forefront. In an uncertain year however, DiCaprio's physically demanding role as Hugh Glass, an 1820s frontiersman who embarks on a path of vengeance against the men who left him for dead after a bear mauling, may finally see Jack Dawson nab that elusive statuette. The film, directed by Alejandro González Iñárritu, best known for last year's best picture winner, Birdman, should at very least, be visually sumptuous and deserving of a big screen viewing experience. If the Revenant measures up the quality of the director's previous work we could see the first ever repeat Best Picture winner.
Soak it up while you can folks. December is the last frame for quality pictures prior to the Hollywood graveyard of January and February. Save the Netflix queue for those dismal winter months and hit the theaters while there something worth seeing. If you see the films you'll actually stand a chance in this year's Oscar office pool. And what could be better than a little reflected Hollywood glory?