Warm weather and fresh fare go hand in hand. While healthy foods dominate the summer months, too often people fall into meal ruts where all they eat are simple salads and grilled chicken. Nutritious foods don't have to be boring foods, though, because it's easy to add pizzazz with a few clever twists.
Citrus marinades
Fish and poultry are quality low-fat sources of protein but can come up short in flavor. Fortunately, it's simple to enhance lackluster chicken breasts or bland salmon with citrus. Think beyond lemon and lime and try more exotic citrus varieties like blood orange, kumquat, Satsuma and tangerine. Marinate and brush on the juices before cooking, or grill your grub with a few citrus slices directly on top. The eye-widening fresh citrus flavors will take your fish and poultry to new heights.
Fantastic feta
Think you need to give up cheese to be healthy? Think again. Feta is a lower-calorie option that packs incredible flavor into any dish. Nikos Feta, made by Certified Master Cheesemakers, has a classic taste and texture that makes it the perfect addition to boring salads. But don't stop there – drape a slice of feta across bite-size snacks or add crumbles to favorite side dishes for Mediterranean flavor that leaves you satisfied. Visit www.nikosfeta.com/Recipes for more ideas.
Grilled fruit
Fresh fruit is abundant during the warmer months and provides plenty of healthy vitamins and nutrients. Instead of always eating it fresh, sink your teeth into new fruit flavor when you try grilling your favorite varieties. Lightly grilling fruit triggers the sugars to start caramelizing, which brings out rich, sweet flavors. Bananas, pineapple, peaches and even cantaloupe are great options. Cut them in half or chop into bite-size pieces and skewer before grilling.
Infused waters
Nutritionists agree that good old H2O is the best thing to drink to stay hydrated, but after a while plain water gets boring. Add a splash of healthy flavor to water by infusing it yourself. Lemon and lime add zest, but you can experiment with all sorts of flavor enhancements, such as cucumber, apple, grapefruit, berries and mint. Keep a pitcher in the fridge with water and your favorite sliced fruits and you'll always have a healthy drink on hand.
Trendy spices
Nothing adds kick to a bland dish like a touch of spice. If you prefer a little heat and a whole lot of flavor, it's time to add harissa to your regular cooking routine. This Tunisian hot chili pepper paste has a bold flavor profile that's delicious with chicken, eggs and even when used as a sandwich spread. Some food insiders claim harissa will be the next Sriracha, so you can be ahead of the curve by stocking a few cans in your pantry.
Want to try a few recipes that include several of these flavor-boosting ideas? The following is sure to inspire. Learn more about feta and other wholesome recipes by visiting www.facebook.com/NikosFeta, where you can enter a contest to win a trip to Hawaii to attend the Hawaii Food and Wine Festival.
Greek Zucchini Bruschetta Recipe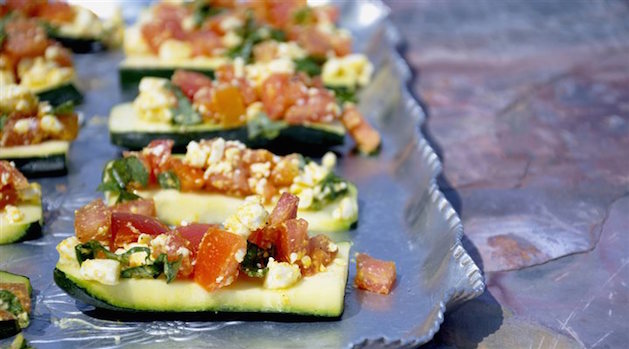 Makes 6-8 servings.
Ingredients:
1/2 cup Nikos Tomato Basil Feta cheese, crumbled
1/4 cup fresh basil, cut into strips
2 tomatoes, diced
2 zucchini, sliced
2 tablespoon olive oil
1/2 teaspoon pepper
1/4 teaspoon salt
1/4 teaspoon turmeric
Instructions:
Slice zucchini into 1/3- or 1/2-inch thick pieces. Lay flat on baking sheet sprayed with nonstick cooking spray or lined with foil. Drizzle zucchini with 1 tablespoon olive oil and bake in oven at 350 degrees F until almost soft. Dice tomatoes and mix with 1 tablespoon olive oil, seasonings, feta cheese and basil. Top zucchini with tomato and feta mixture.
Recipe courtesy of TheLawfulKitchen.com
You Might Also Like